Premier April 15, 2017 "Fallout" - Cleveland, OH
Premier April 15, 2017 "Fallout" - Cleveland, OH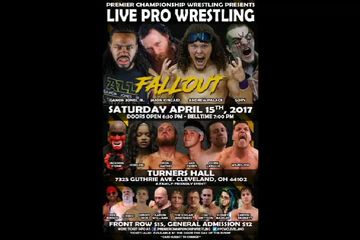 Variations
1. Aaron Williams & Nate Wings vs. The Cogar Brothers
2. Cole Radrick vs. Jason Gory vs. Kevin Bennett vs. Shawn Phoenix
3. Chest Flexor & Corey Futuristic vs. Cornelius Crummels & Sonny DeFarge
4. PCW Championship: Andrew Palace(c) vs. Ganon Jones Jr.
5. Ace Perry vs. N8 Mattson
6. Chris LeRusso vs. Jackson Stone
7. Street Fight: Dale Patricks, Rex Brody, Rickey Shane Page & Sonny Vice vs. Derek Direction, J-Rocc, Nickie Valentino & Ron Mathis
You need to purchase "Watch Online" version to watch!