C*4 Feb. 26 & March 19, 2016 "Underground Volume 2 & History Of Violence" - Ottawa, ON
C*4 Feb. 26 & March 19, 2016 "Underground Volume 2 & History Of Violence" - Ottawa, ON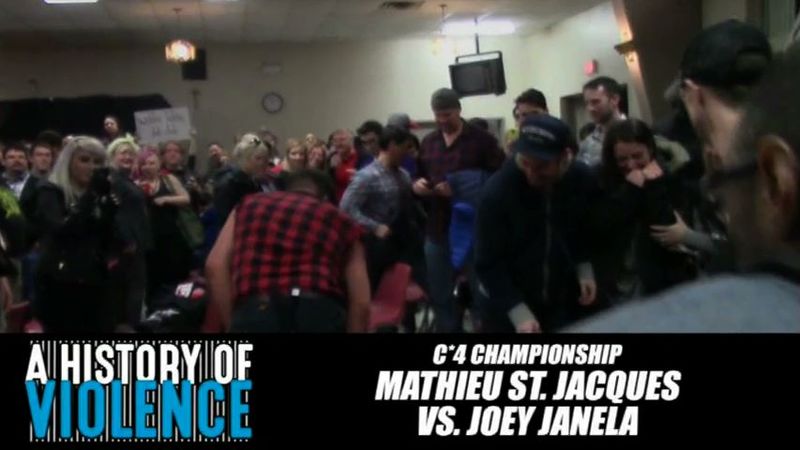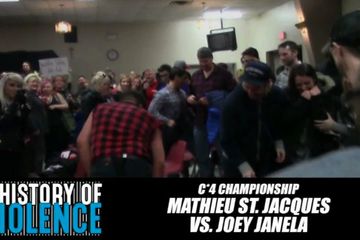 Variations
Underground Volume 2
1. The Brotherhood (Bret MacLeod & Decker Lockhart) & Marc Mercer vs. Deeno Benjamin, Jonathon Rukin & Velvet Jones

2. Alexia Nicole vs. Stacy Thibault
3. Evan Adams & Thomas Dubois vs. The Fraternity (Channing Decker & Trent Gibson)
4. Eddy Erdogan vs. Michael Von Payton
5. Justin Turnbull vs. Matt Angel vs. "Big Magic" Shane Matthews
6. "Speedball" Mike Bailey vs. Shane Sabre
7. Cecil Nyx vs. Idris Nawabi vs. Oliver Strange vs. Stu Grayson
8. C*4 Championship: Mathieu St. Jacques(c) vs. Space Monkey
"A History of Violence"
1. Decker Lockhar vs. Deeno Benjamin vs. Evan Adams vs. Kevin Blanchard vs. Qefka the Quiet vs. Sebastian Suave
2. Cecil Nyx vs. Joe Gacy
3. Jonathon Rukin & Velvet Jones vs. Michael Von Payton & Vanessa Kraven
4. Shane Sabre vs. Viking
5. C*4 Tag Team Championship: Cuts n' Guts (John Greed & Tarik) vs. Stu Grayson & Thomas Dubois
6. Space Monkey vs. Twiggy
7. 2 Cold Scorpio, Brent Banks & Franky the Mobster vs. Cheech Hernandez, Christopher Bishop & Facade
8. C*4 Championship: Joey Janela vs. Mathieu St. Jacques(c)
You need to purchase "Watch Online" version to watch!